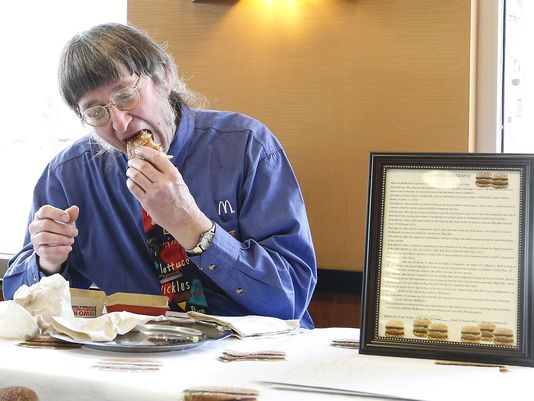 Sharon Roznik, via FDL Reporter:
Don Gorske gobbled down his 30,000th Big Mac Friday at the same McDonald's where he got his first taste of the beefed-up burger in 1972.
The Big Mac maniac gave a half-hour presentation to the crowd, which gathered to watch him take that first bite of the 30,000th all-beef patty, with special sauce, lettuce, cheese, pickles, onions, on a sesame-seed bun. He showed off his record books and how he keeps track of thousands of receipts, sandwich wrappers and containers.
"People like to see proof," he said.
Among his calculations, Gorske figured it took him 356 days to eat his first 1,000 Big Macs. On the day McDonald's founder Ray Kroc died in 1984, Gorske ate his 5,978th Big Mac.
Through more than four decades, he's gone about eight days total, without eating a Big Mac. The first day missed was the hardest, Gorske said, and that was in 1982, when he drove in a snowstorm to get his sandwich, and the restaurant was closed.